Lock Forming Machine (LFMC18)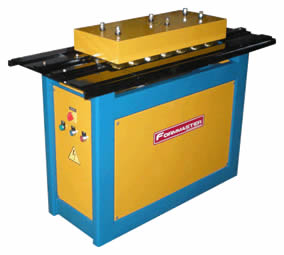 LOCK FORMING MACHINE (LFMC18)
FORMMASTER Lock Forming Machine Model: LFMC18 comes with outboard extension shafts on both side of the machine. Pittsburgh Lock Seam roll tools are fitted as standard on one side of 7 stations machine and on other side there is option to load Right Angle Flange Seam, Double Seam ( Acme Seam), Drive Cleat, Plain Seam, Standing Seam etc .roll tool sets. The machine forms seam on the sheet metal of thickness range of 0.8 to 1.2mm (22-18Gauge).
The machine is design keeping in mind difficult & tough working environment. The machine incorporated heavy duty plate housing. Thrust bearings are included on the alloy steel hardened & ground roller shafts thereby reducing friction and improving the life of the machine. The machine provides dependable and noise free service for years.
Features:
Two forming positions on either side of machine chassis plate.
Heavy duty machine chassis plate.
Thrust bearings through out to eliminate friction and increase life span.
Easy & quick change over of auxiliary roll tool set.
Ground, CNC machined chassis plate for greater accuracy.
Dimensions: L 50" x W 22" x H 40" L 1250 x W 550 x H 1000 approx.
Weight: 300 Kgs (approx).