Manual Notching Machine (NM16)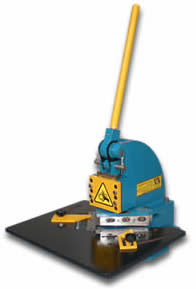 Notching Machine.
FORMMASTER Manual Notching Machine is a heavy duty machine which cuts burr free corner notches.
Our Hand Operated Notching Machine are extensively used in sheet metal fabrication work. Its is used in cutting notches on the sheet metal to produce variety of components. Its heavily constructed body enables notches to be cut with less effort.
Features:
90 degree fixed angle
Cuts notch up to 150 x 150 x 1.5mm
Rigid all steel machine housing frame
High quality alloy steel hardened & ground adjustable cutting blades
Adjustable gauge
Adjustable stop for the serial production