Lock Seam Closing Machine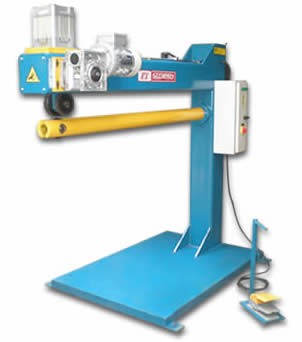 Lock Seam Closing Forming Machine (LSCM20)
FORMMASTER'S Lock Seam Closing machine presses two seams together to give professionally finished locked seam.
Our Lock Seam Closing Machines are used for closing the pre-formed longitudinal edges of curved sheet to produce tightly pressed closed seam cylindrical shell or tube. These machines are generally use in the manufacturing of cylindrical shell, tube or pipe of sheet metal used in round ducts, outer shell of solar water tank and flute pipes etc.
The machines comes with motorized top pressure roll which is pneumatically lowered on the bottom roll thereby pressing the seam in between. Option available for both screw or pneumatic arrangement for the movement of upper pressure roll.
Features:
Fast & Quick Locking of Seams
Easy to Operate
Professional Locked Seam Finish
Foot Switch Operation
Pneumatically Operated Pressure Roll